We have been doing back packing for a couple of years and we just love it. I love to walk so this is the perfect thing for me to do with my dogs. They love going for walks and it keeps them in good shape.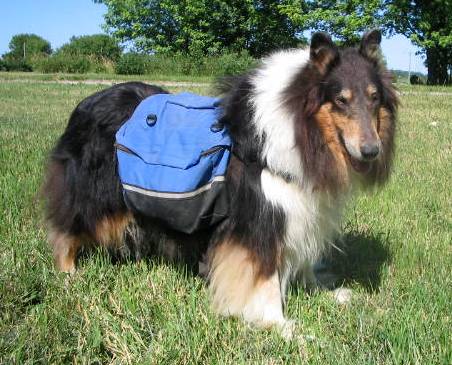 VCH CH Dunrobin Angel of Heaven CD CGC HIC HCT TDIA SOC II TT BPDX CRT VCX OFA
(left) Angel at 11 1/2 years old! (right) Angel earned her BPDX at 6 years old!

Our dogs earn the BPD (Back Packing Dog) and BPDX (Back Packing Dog Excellent) titles through the American Working Collie Association.
They must walk a total of 12 miles for the City walk, and there must be one group walk included with this.
They must walk a total of 20 miles on natural terrain.
To obtain the BPD, the dog must do one of these walks and to obtain the BPDX the dog must do both of these walks.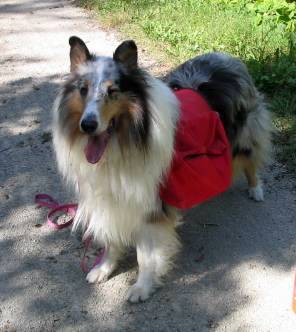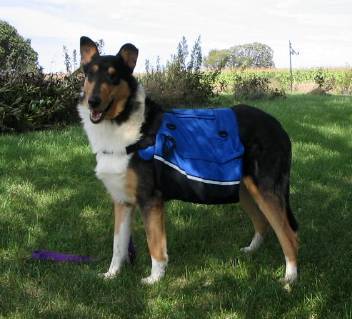 CH Bit O' Heaven Icon O' Blue Ridge CH Bit O' Heaven With A Twist
HIC TT BPDX VC HIC TT CGC TDI BPDX VC
owned by Kim Rascher


Oliver and Isaac hiking the Wild Goose State Trail together.
They both achieved their BPDX on November 1st. 2004.

CH Wild Wind On A Stormy Night CD CGC HIC HCT TDI SOC I TT BPDX RN VCX OFA ROM
Stormy earned her BPDX at 8 1/2 years old.