We believe that a well trained dog is a happy dog and makes a much better companion.
We start training our pups when they are 10-12 weeks old. We start with puppy kindergarten and then go on to pre-novice (beginners) and then on to Novice (advanced). We pride ourselves on how well behaved our dogs are in public.
I am an instructor with the Fond du Lac County Kennel Club and teach puppy classes.
Puppy classes are so important for socializing the youngster and just starting basic obedience.
We have earned several CD titles and are currently training for more CD titles.
We tried out the new Rally obedience and really enjoyed it. We earned our first Rally Novice title in 2007!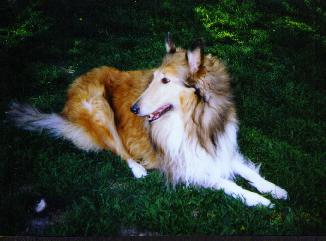 Lady Tasha XXII CD CGC TDI VC
TASHA
Tasha was our first collie to achieve the CD title, she passed in Novice A in 4 shows. She should have won a "special" award at her 3rd show, it happened to be 98 degrees, humid and sunny out. On her long down (which was her most solid thing) she decided it was just too unbearable and got up, came to me, looked up at me with her head down, walked behind all the exhibitors and went and laid "under" the stewards table. The next day it was 20 degrees cooler and overcast and she passed easily. Tasha is now at the Bridge.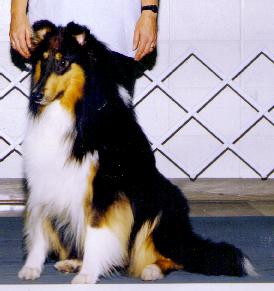 VCH CH Dunrobin Angel Of Heaven CD CGC HIC HCT TDIA SOC II TT BPDX CRT OFA
ANGEL
Angel was our first collie that passed her CD title in three shows. She did more than we ever expected. She loved puppy class and always wanted to go and "watch", or be "demo dog".
I miss my puppy class assistant terribly.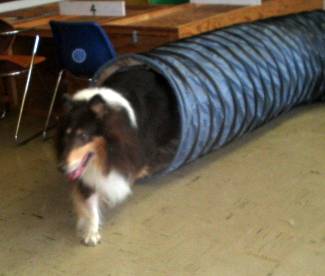 Angel playing on the puppy class equipment at 11 years old. She loved being demo dog and she loved playing on the equipment.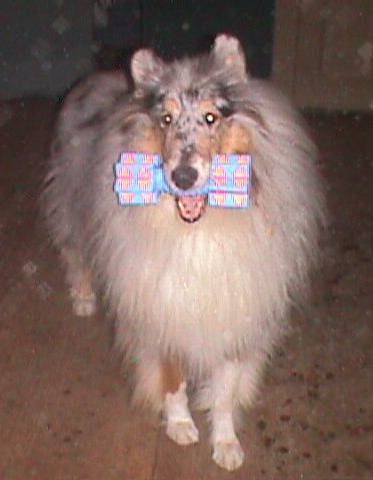 Dunrobin Billi Sing The Bluz CD CGC HIC HCT TDI TT VC
BILLI
Billi was a wonderful obedience dog. He earned his CD title easily. He loved retrieving and jumping and was a very attentive boy. Billi is pictured here with his favorite toy, his dumbbell. Billi is no longer with us but will remain in our hearts forever.

CH Wild WInd On A Stormy Night CD CGC HIC HCT BPDX RN TDI SOC I VCX OFA ROM
STORMY
Stormy earned her CD in three shows. Stormy was a very easy dog to train in obedience and is also very attentive. She loves doing things for her liver treats. Stormy is our first dog to obtain her rally title. She did it in three shows at just under 11 years old on March 17th, 07.

We are currently training others for their CD titles and will out showing them in 2009. We believe in the gentle method of training with treats and a buckle collar. Our dogs absolutely love their liver treats and we find it has been our most useful training tool.

This is my favorite training treat
Liver Brownies
2 lbs. liver, 2 cups flour, 2 cups corn meal, garlic to taste.
Puree the liver in a blender, mix all ingredients (consistency of brownie batter). Spread in a greased cookie sheet. Bake at 350 degrees for 20 minutes. Cut into cubes and freeze.

We not only earn titles through AKC (American Kennel Club), we also earn titles through the AWCA (American Working Collie Association), and ATT (American Temperament Test),
Our dogs have earned these AWCA titles: BPDX (Back Packing Dog Excellent), CRT (Carting), VC (Versatility Companion), VCX (Versatility Companion Excellent) and VCH (Versatility Champion).
Our dogs have earned these AKC titles: CH (Championship), CD (Companion Dog), CGC (Canine Good Citizen)
Our dogs have earned these AHBA titles: HIC (Herding Instinct Certification), HCT (Herding Capability Tested), and our Billi had one leg towards his JHD (Junior Herding Dog).
We also have six dogs who passed their ATTS. (Temperament Tested).

Page updated on:
02/28/2011