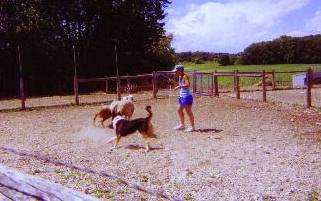 CH Bit O' Heaven With A Twist HIC TT BPDX VC
Our collies are currently earning points through the American Working Collie Association to achieve the titles of: VC (Versatility Companion-5pts), VCX (Versatility Companion Excellent-10pts), and VCH (Versatility Champion-15pts.)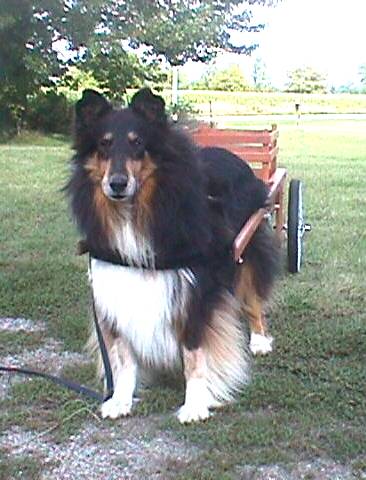 VCH CH Dunrobin Angel of Heaven CD CGC HIC HCT TDIA SOC II TT BPDX CRT OFA "Angel"
Angel earned her VCH (Versatility Champion) title through the American Working Collie Association in June 2006 at the age of 11 1/2 years. Angel was is our hardest working collie. She loved to be busy so we kept finding new things for her to do.

Dunrobin Billi Sing The Bluz CD CGC HIC HCT TDI TT VC "Billi"
Billie was a natural at herding and had one leg towards his JHD (Junior Herding Dog). His favorite thing was Therapy Dog Work. Billi is no longer with us but his memory will be with us forever.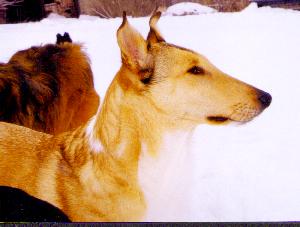 CH Wild Wind On A Stormy Night CD CGC HIC HCT TDI SOC I RN BPDX TT VCX OFA ROM "Stormy"
Stormy has achieved a lot here. She loves herding. One of Stormy's favorite things is therapy dog work, she is so loving. She also loves "puppy sitting". At 8 1/2 years old Stormy completed her backpacking titles and received her VCX (Versatility Companion Excellent). Stormy is our first dog to do rally obedience here and she received her title "Rally Novice" in 3 shows, finished on March 17th, 07 at the age of just under 11 years old.

Bit O' Heaven Bark At The Moon CGC HIC HCT VC "Ozzy"
Ozzy obtained his VC by gaining mostly Herding Titles. Ozzy is retired now, due to arthritis. But he had a wonderful time visiting facilities and giving and getting attention.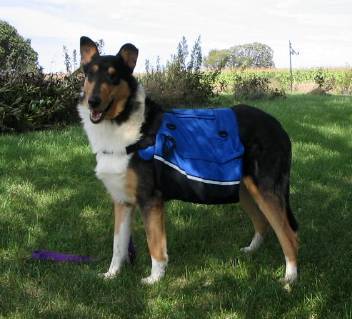 CH Bit O' Heaven With A Twist HIC TT CGC TDI BPDX VC "Oliver"
Oliver finished his championship at 9 months old and then immediately passed his herding instinct certification. When he was 2 years old he passed his temperament test and at 3 passed his canine good citizen and Therapy Dogs International, Inc certifications. He then went on to do backpacking earning both the BPD and BPDX titles which then qualified him for his VC (Versatility Companion) title. Oliver is now owned by Kim Rascher.

CH Bit O' Heaven Icon O' Blue Ridge HIC TT BPDX VC "Isaac"
Isaac passed his herding instinct test as a young dog then went on to finish his championship at age 3. He passed his temperament test at age 3. At 5 he started doing backpacking and completed both his BPD and BPDX titles to earn his VC (versatility Companion).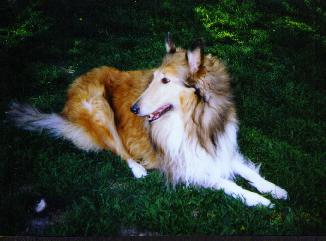 Lady Tasha XXII CD CGC TDI VC "Tasha"
Tasha was our first collie and our first dog to achieve her CD title and her VC title. We are very proud of her. Although Tasha is no longer with us she will always live in our hearts.

Page updated on
02/28/2011