We put careful planning into each litter that we breed. We breed for type, structure, soundness, health and temperament. We only breed a litter when we want something special out of it to show. Of course there will be pet puppies in the litter and we strive to find the best homes for them.
Our collies are raised as part of our family, they live with us in the house and are taken to club meetings, parades, nursing homes, schools, and friends and relatives homes. They are constantly on the go. We take all of the pups we keep through a puppy class by 6 months old and they get well socialized and basic training. We do obedience, herding, carting, tracking, back packing and conformation with our collies.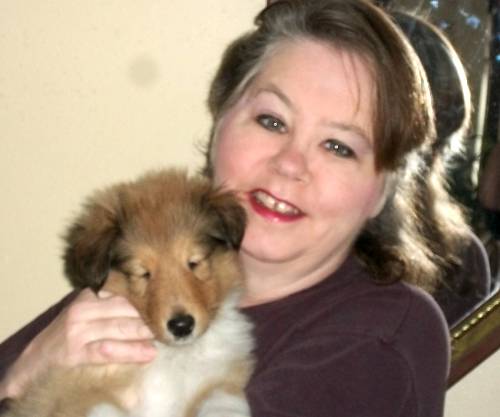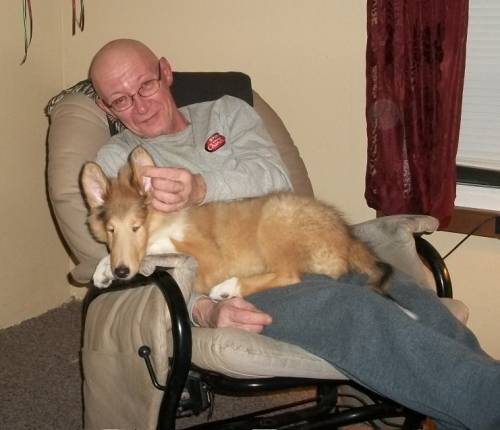 Michelle & Axl Tom & George
Our pets are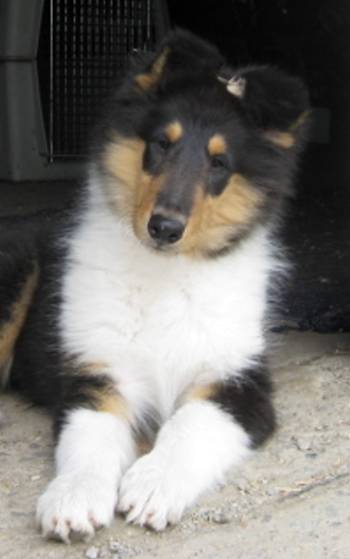 all sold on spay/neuter contracts and limited registration. We do not encourage breeding of pets. We want to ensure our pets are healthy and happy. We have a written guarantee on all puppies that leave here. We have a 2 year written guarantee against genetic defects. We also take back any collie that we have sold no matter what age, condition or reason for giving it back. We want to know where our collies are at all times. We care for our collies throughout their lives and do want to be in contact with buyers throughout our puppies lives. We encourage buyers to send us pictures and updates often.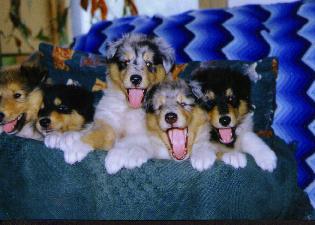 I am Webmaster of the Northern Wisconsin Collie Club. I taught Puppy classes for our local kennel club. In the past I was a 4-H dog trainer and loved working with the kids and their dogs.
I have attended 4 seminars presented by Dr. Patricia McConnell PhD, who is an Animal Behaviorist (Dog's Best Friend). I have attended a weekend seminar by Suzanne Clothier (Flying Dog Press) I have attended a day seminar about obedience training by Anna Lorenz from Sheboygan, WI. Private Trainer and AKC Judge for Obedience Novice, Open, Utility, Non-Regular Classes and Rally, Non-Regular Classes, Novice, Advanced and Excellent.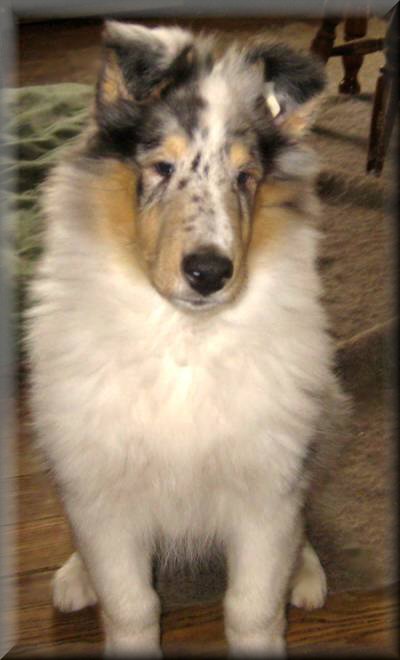 We have bred 17 champions so far and finished one with 4 majors from the Bred-By Class making him our first home-bred champion. We have also bred a Grand Champion who went Best in Specialty Show and she also finished from the Bred-By Class. We also have collies that we received championships on that we purchased. We have received 6 CD's on collies, 27 Herding Instinct Certifications, 4 Herding Capability Tested and several Canine Good Citizens. We put VC (Versatility Companion) titles on 7 collies and three received their VCX (Versatility Companion Excellent) titles and 1 earned her VCH (Versatility Champion) title through the American Working Collie Association. We received our first Rally Novice title on March 17th, 2007.
We believe that a healthy collie is a happy collie and will live a long, productive life. We want the best for our dogs and only breed to stud dogs that come from healthy lines and have produced healthy pups. We do genetic testing on our collies used for breeding.
Please feel free to contact me if you have any questions or want more info on our collies or collies in general.
Michelle & Tom Tennis
This page updated on:
09/26/2011