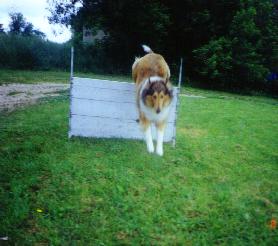 Our collies are kept very busy here. They do many performance activities along with conformation. Our puppies start out taking a puppy kindergarten class which is the most important class in a dogs life. I also teach Puppy Classes at our local Kennel Club.

From there we go on to obedience and have put many CD titles on our collies! We have started doing Rally Obedience and put our first Rally Novice title on our smooth girl, Stormy on March 17th, 07.
Bit O' Heaven's Magic Stardust CD (Dusty) owned by Anna & Bruce Arndt was #2 collie in obedience according to Front & Finish magazine. (2004)
---
We have also started doing agility, although we do not have any agility titles yet, but collies we have bred have done very well in agility.
Some of the dogs that I have bred do have agility titles and have done very well. Bit O' Heaven's Mocha Delight NA "Java" finished #1 collie in Novice B Standard for 2002! Java is owned by Beth Zagelmeier.
---
Herding is one of our collies favorite activities. We enjoy watching our collies do what they were originally bred to do. We take all of our collies to the Herding Instinct Test and some of them we go on to earn advanced titles through the American Herding Breed Association! Bit O' Heaven's Sky's The Limit "Neil" was our first bred-by to achieve his AKC HT title. Neil is owned by Debbie and Heather Jackson.
---
Therapy Dog Work is a favorite activity here also. We do not have any registered Therapy Dogs right now but do plan to have more certified. We used to visit facilities 2 times a month and enjoyed it very much. It is a wonderful thing for the residents and the dogs. I also got a lot out of seeing the people interact with the dogs. Our dogs are registered with Therapy Dogs International, Inc.
---
We have started Carting and it is one of my favorite activities. We received our first carting title in Fall 2005. Our Angel (VCH CH Dunrobin Angel Of Heaven CD CGC HIC HCT TT TDIA SOC II CRT BPDX VCX OFA) passed her 2nd carting test at the age of 10 1/2 years old to achieve her title. We are hoping to start some young girls in carting in 09.
---
We have been doing backpacking and so far that is another one of my favorite activities since I love walking!
---
We are earning versatility titles through the American Working Collie Association. For every activity and title that we earn we earn points towards our Versatility titles. This is a wonderful program for collies and their owners.
---
Please click on the links above to learn more about those activities!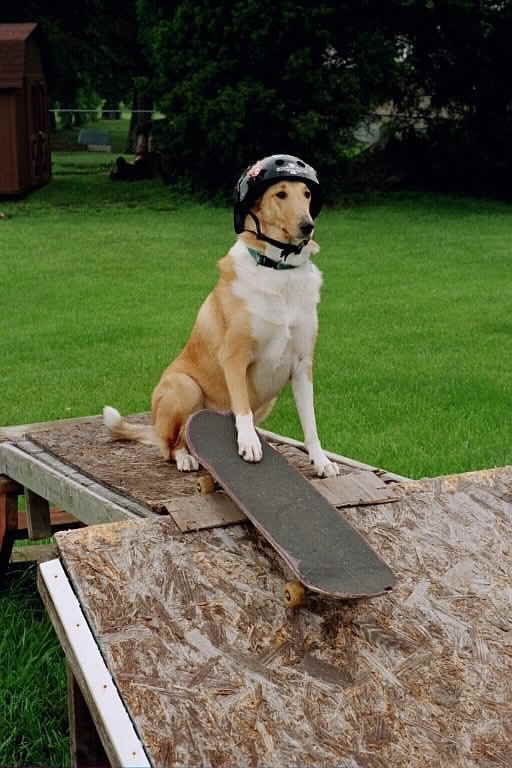 Bit O' Heaven's Sunny Delight "Sunny" (Xtreme Dee)
Photo by Ed Werden
Sunny is owned and loved by the Werden Family of Tennessee
---
First and foremost our collies are members of our household and are our companions. We form special bonds with each and every one of them!
---
---
Page updated on:
08/13/2011